Overcoming Self Deception- Sadhana of Mahamudra Weekend Retreat
with Linda Lewis
The Sadhana of Mahamudra, written in Bhutan by Chögyam Trungpa Rinpoche in 1967, is widely considered one of his most seminal works. Trungpa himself considered it "terma," meaning a most sacred revelation given by the eighth century saint Padmasambhava, rather than being composed by Trungpa personally.
Historically, the Sadhana's composition occurred in the very midst of Trungpa's transition from being an exponent of a thoroughly traditional Tibetan world into his career as one of the most important and innovative lamas bringing Tibetan Buddhism to the West. Study of the text reveals insights into Buddhism's emergence from a staunchly conservative Tibetan religious environment into the utterly different Western world.
Within Trungpa's corpus, the Sadhana is particularly important because its main themes prefigure the unique teaching style, method, and content of his delivery of Buddhism into a modern context. In the text, we can hear Trungpa expressing his own uncertainties as well as his inspirations about how to make the dharma thrive in the West.
This retreat is open to everyone! Join us as we spend a weekend practicing and studying this treasured sadhana. If you are a tantrika and would like to umdze this practice we will also be offering an opportunity for you to train so you can lead this practice at your center. We will be using Chogyam Trungpa Rinpoche's book, "Cutting Through Spiritual Materialism" as a guide.
Click here to read more about the Sadhana of Mahamudra.
ABOUT THE TEACHER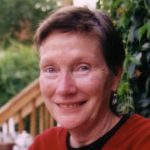 Linda Lewis met the Vidyadhara Chögyam Trungpa Rinpoche in 1972 and immediately moved to Boulder, Colorado to be a part of his young and vital sangha. The predominant themes in her life have been teaching in contemplative schools--Vidya, Naropa, and the Shambhala School in Halifax, Nova Scotia--and studying, practicing, or teaching his Shambhala Buddhadharma wherever she finds herself. She is also a volunteer translator for the Nalanda Translation Committee.