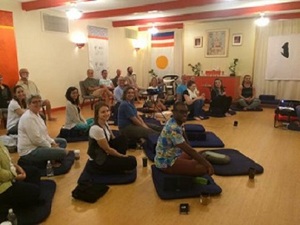 In person Sunday Sitting 7/4
We are so excited to begin in person sitting!
As we have announced we will continue meeting online with ZOOM and in include this in person portion.
We are limiting the in person capacity to 14 and registration for this program is required for attendance in person.
When registrations go past 14 we will keep you listed on a waiting list.
The rules for attending in person are as follows:
When you sign-in upon entering the center, you will be asked to attest to certain criteria including the following:
Being at least 2 weeks from full vaccination
Not having traveled outside of the USA in recent weeks
Feeling physically well today, specifically not currently experiencing symptoms associated with COVID and have not been in contact with anyone experiencing symptoms.
We will practice social distancing during the sitting practice; cushions and zabutons will be spaced accordingly.
We ask that you wear a mask upon entering the building and when moving through the center hallway and bathrooms. Masks will be optional once you are seated on your meditation cushion or chair. For the time being we will not be using the community room or kitchen.
Wash your hands and clean up after yourselves. Hand sanitizers will be provided.
In general, we ask everyone to be mindful of crowding (especially in the hallway) and keep your distance.
Hope to see you in person soon!