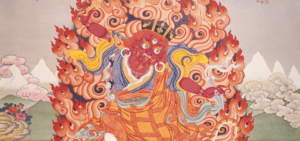 Evening Chants, including Mamo chants
with Shastri Will Ryken
Evening Chants including Mamo Chants
Cap your pracgtice Day by joining us for Protector Chants and Closing chants.
Offering at this time of global upheaval
We will be offering this practice daily starting a 5: 30 –6:00 pm
If you have never done these chants and want an introduction: please email Shastri Ryken [email protected]
Mamos
"Mamos" refers to a wrathful "feminine" force, which is sometimes protective, but frequently destructive. The dharmapalas, especially the feminine wisdom dharmapalas, like Vetali and Ekajati, have hosts of mamos in their retinue. The circumstances vividly described in the Mamo chant, such as "family feuds and civil wars" are seen as both the cause and effect of stirring up the "mamo's wrath." The significance is as follows.
Basic Feminine Principle
In the tantric view, the basic energies in the universe are basically good, or 'pure' in the sense of being unbiased, that is without the territories of ego. In the progressively confused realms of existence (like ours), both the self and experiences get solidified, and energy gets filtered and channeled through the central territory of the 'self' and its agendas. Thus in tantric terms, the basic feminine force is complete openness and accomodation, panoramic appreciative awareness, and universal passion-compassion, without partiality. In our somewhat veiled state it is devotion, love, affection, passion, nurturing, social connectedness — more or less sane or neurotic. So at our level, "passion", or the feminine principle, functions as a force of creating harmony, friendship, and connectedness, in relationships and family, in community, between self and nature, and between mind and body. When the basic energy gets twisted further through the ego's centralization, it can become hunger, paranoid and jealous desire, manipulative, exploitative, or hypnotic energy, predatory seduction and betrayal, and so on.
Here is a link to an article from Shambhala Times on Mamo Chants: